Today's story by Brand Republic's Julia Pearlman entitled "
Gorillaz website gives fans bonus features ahead of album release
" offers a tantalizing peak into the ways in which major record labels can continue to define the cutting-edge when it comes to promoting talent creatively. You begin with a virtual band, then create a website where they "live," and when their album comes out, those with a PC and the disc in their hot little hands can insert the disc and then get cool, free downloads and interact with 3D animated content that is localized and personalized for them. EMI Group's Parlophone may not have living personalities to put on tour, do interviews, etc., but they seem to be exploiting the technology hook that identifies the band, and all facets of the promotions are ultra engaging, including its
new enhanced video
for the band's track "Feel Good Inc."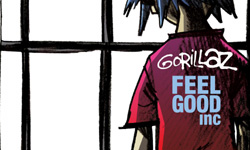 Take the plunge by visiting
www.Gorillaz.com
to cozy up with the virtual band and cartoon versions of the musical stars who contributed their talents to the new LP.