Last year, San Francisco ad agency
Goodby Silverstein & Partners
hatched an idea for its clients at
Hewlett Packard's Digital Photography
division which has led to some truly phenomenal results. Collaborations with the talented French director
Francois Vogel
, which began in 2003 in the development of another award-winning television commercial entitled "You", produced a new demonstration of how Vogel could use visual effects techniques and artistry to make it appear as though he was pulling pictures out of the air. With a green light from their clients at HP, the agency produced a new set of spots which have since earned an uncommon amount of acclaim from consumers and ad industry professionals alike, in the forms of raves, editorial coverage and industry awards. At the dawn of 2005,
TV Guide proclaimed
the "Picture Book" spots as "the most irresistable 60 seconds on TV," and Adweek Magazine named the campaign its
Campaign of the Year
. When "
Francois 2
" debuted this June, consumers rated it the most liked commercial of the month,
according to Advertising Age magazine
. This week, MSNBC posted a
Test Pattern
feature that rates it the top campaign of the past year -- and MSNBC writer Gael Fashingbauer Cooper called it "The Perfect Commercial" in
her July 6 posting
.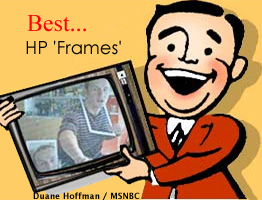 I'm very proud to say that the production company behind the spot --
Paranoid Projects: Tool
-- is among my clients. The company received multiple honors for their work on the campaign in the annual
AICP Show
, which celebrates the year's best television commercials in a show that travels the globe and is added annually to the Museum of Modern Art's permanent collection in New York City. It's not often that something comes together so well and accomplishes so much. By the way, here's a link to the newest spot in the campaign, entitled "
Colors
".