Zachary Rodgers just posted the
second part
of his
ClickZ
feature entitled "
Hollywood's Marketing Upheaval
," and you should definitely check it out. It's a great summary of the realms of marketing that are in the mix for promoting feature films these days. Though the title may seem a little overly dramatic, there are certainly some significant changes afoot, and the stakes are at an all-time high.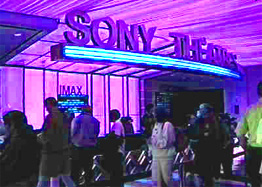 Comparing this year's box office results with last year's and then analyzing various shifts in the feature film marketing landscape, Rodgers interviews the head of interactive agency
Deep Focus
,
JupiterResearch
analyst David Card, an anonymous studio marketing executive, the CEO of a marketing company named
House Party
and the VP of interactive marketing for
Warner Brothers Pictures
. The story identifies some interesting new trends and relates how online activities are shoring up, provides some perspective on buzz marketing and in-game initiatives, and lavishes some love on Warner Brothers' successful cross-media campaign for
Charlie and the Chocolate Factory
. Indeed, for every project, there's a unique prescription for ensuring that marketing generates the necessary results; this piece illuminates how finding the right one can deliver uncommon success.