In his posting entitled "
Skype's call is worth the disruption
" in Brand Republic's Design Bulletin weekly newsletter, Mark Ritson points to his early adopter buddy who recently turned him on to the global P2P telephony company that's changing the telecommunications world by offering consumers free, superior-quality calling worldwide. As
Skype's website
says, "You can call anyone else on Skype, anywhere in the world for free. And you'll always be able to do that. There are some other useful things you can do on Skype that aren't free (but they're pretty cheap, actually)." I encourage you to visit the site, download the free software, and use it as part of technology's latest offerings which are changing the world for the better.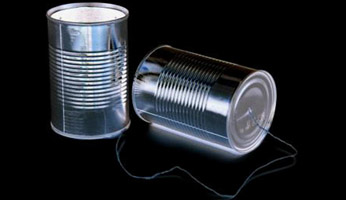 Like Ritson, I learned about Skype from an early adopter friend. In my case, my buddy Sam Giha lives in Lima, Peru, and he suggested we use Skype to keep-in-touch without having to pay any phone companies their exorbitant rates for US-to-Peru calls over telephone lines. As I've spread the word, I've experienced the same interchange that Sam prompted when he first told me about the service: a resounding, "Skype?" Check it out, and reap the rewards for yourself. By the way, thanks, Sam!