Today is
World AIDS Day
... and as made clear in these words from UN Secretary General Kofi Annan, today's mission demands that each of us take part: "Accountability -- the theme of this World AIDS Day -- requires every President and Prime Minister, every parliamentarian and politician, to decide and declare that 'AIDS stops with me'... But accountability applies not only to those who hold positions of power. It also applies to all of us... And it requires every one of us help bring AIDS out of the shadows, and spread the message that silence is death."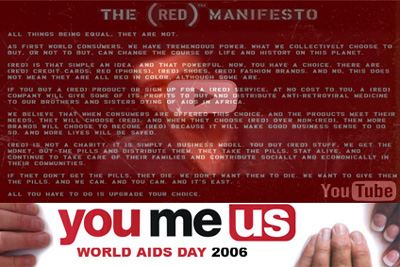 You may already know about
(RED)
-- the innovative, private-sector initiative launched in January of this year to enlist leading companies to channel a percentage of profits to assist in the fight against the HIV/AIDS pandemic, which kills three million people every year. The money generated by the sale of (RED) products supports Global Fund-financed programs which positively impact the lives of women and children affected by HIV/AIDS in Africa. The Global Fund is a unique global public-private partnership dedicated to attracting and disbursing additional resources to prevent and treat HIV/AIDS, tuberculosis and malaria. This partnership between governments, civil society, the private sector and affected communities represents a new approach to international health financing. The Fund works in close collaboration with other bilateral and multilateral organizations to supplement existing efforts dealing with the three diseases. The Global Fund has so far committed US$4.6 billion to 385 programs in 131 countries. Around half of the funding is being spent on medicines, mosquito nets to prevent malaria and other products, while the other half is for strengthening health services. Already substantial results have been achieved, with 384,000 people having been supported with treatment for HIV/AIDS, 1 million people having received TB treatment and more than 7.7 million families having received insecticide-treated bed nets to prevent malaria.
For more information on the work of the Global Fund or to make a tax-deductible contribution, please visit www.theglobalfund.org.
(RED) sales in the US have so far raised enough money to: provide more than 40,000 men or women with ARV treatment for a year (note: these treatments are only a small portion of a person's overall treatment and represent just one year of lifelong treatment); or provide more than 2 million peer educators with HIV training; or provide a year's worth of school materials and daily hot meals for more than 86,000 children orphaned by AIDS; or provide more than 1 million Rapid Tests which detect HIV and deliver instant test results.
Please visit (RED) to read about partners and take advantage of their offers, to learn more about the organization, Global Fund and World AIDS Day, and to watch Bono's message for World AIDS Day.
Today, please take at least one action to help turn the tide for those suffering from AIDS in Africa. We
can
make a difference!