In my experience, I have learned that there are certain approaches and activities which, when followed, are likely to produce superior results compared to those expected when the approaches and activities are handled otherwise. And yet, as my mother recently reminded me, my late Uncle Tuny had an expression which casts a different light on this type of thinking, in that he was very fond of saying, "
Be reasonable -- do it my way,
" from behind a wide Cheshire grin. All this is to say, although I often feel very confident about the right ways to handle certain affairs, I am also very aware that for any activity or approach involving others to be considered well handled, everyone involved must be acknowledged, honored -- and persuaded of the soundness of the proposed course of action. In past days when I spent more time working directly with emerging high-tech companies, I became a big fan of
Guy Kawasaki
, and I just enjoyed a piece he wrote for the American Express OPEN Forum Blog entitled "
How to Be Persuasive
" -- and another really interesting story Guy linked to on PILOTed, the blog for the company Academic Business Advisors, entitled "
What I Learned Buying a Rug in Turkey.
" Both pieces reference the expertise of
Robert Cialdini
, the man behind the books "
Influence: The Psychology of Persuasion
" and "
Yes! 50 Scientifically Proven Ways to Be Persuasive
," which Mr. Cialdini co-authored with Noah J. Goldstein and Steven J. Martin.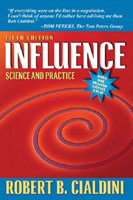 Both the American Express and PILOTed pieces relate colorful examples which very effectively point-up principles these books cite as being at the heart of effective persuasion. For an enlightening experience, I encourage you to read both posts, and in the meantime, here are a few of the well-established guideposts we can all use to be more persuasive. If one works for you, please try another -- every little step in the right direction can make a big difference....
.
People often make decisions based on others' actions.
.
Offering fewer options often facilitates better decision-making.
.
Many people prefer to choose something that falls between the basic and luxury options.
.
Helping others is a great way to earn their reciprocal assistance; being extra thoughtful and considerate invites even greater appreciation.
.
Inviting small responses often gets effective results.
.
Most of us are deeply interested in being consistent in our decision-making and what we commit to.
.
Scarcity increases interest.
.
Authorities perceived as being genuine are usually respected and followed.