Fortunately for me, I have a lot of friends, and these days, with the impact of the economy continuing to wreak havoc on many industries and a lot of lives, I'm regularly hearing from individuals who are suddenly unemployed. While this is definitely a scary situation, I stand ready with encouragement and a handful of smart ideas that I feel are best bets to ensuring that people have the greatest likelihood of finding their next great career opportunities. Apparently, Karen Post, a.k.a.
The Branding Diva(R)
is of a similar mindset. An international authority on branding matters, the author of the best-selling book
Brain Tattoos
and CEO of the
Oddpodz.com
online community for creative-minded professionals and businesses, Karen's Jan. 8 blog post entitled "
Puking Pink Slips? Jumpstart your personal brand today
" takes my personal
rah-rah
speech to new heights. Do jump on over to Karen's great post, and consider checking-out my paraphrased and slightly reprioritized listing of her spot-on career-rejuvenating suggestions below. "Break a leg!"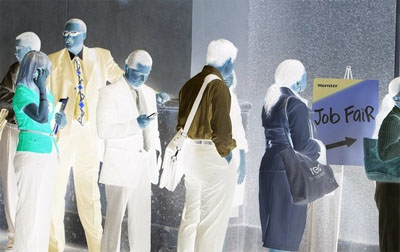 . Identify exactly what you want in your career, and practice explaining it to others until it rolls off your tongue

. Set goals, visualize them becoming reality, and take steps toward them each and every day

. Manage your attitude -- stay positive and do everything you can to ensure your outlook stays healthy

. Ensure your resume represents you and your "brand" consistently

. Seek out experts and ask their advice on your next moves

. Identify your best in-person networking opportunities -- and show up in style

. Consider purchasing a custom URL for your name or some other creatively

apropos

phrase -- and then connect it to your chosen online showcase (your own site, blog, portfolio, LinkedIn profile, etc.)

. Make the extra effort to maximize social networking sites and opportunities to position and showcase yourself effectively and try to hone in on finding your ideal job

. Find strategic, meaningful ways to regularly stay in touch with important contacts