Ask the world's leading entrepreneurs, top-level marketers, and graphic designers what companies have inspired them the most over the past 20 years, and you will very likely hear the name
ATTIK
. In 2002, when
Advertising Age reported
that Toyota had "stunned" the automotive industry by naming a "little-known graphic design shop-cum-advertising agency" to handle its new youth brand, in validating their choice, ATTIK's newest clients quickly pointed to the firm's design aesthetic and its strategic thinking. By that time, ATTIK had already been in business for 16 years, and was actually quite well known for its
Noise
series of self-guided experimental design books, its high-profile client work for leading brands, and its renowned, rags-to-riches tale of founders Simon Needham and James Sommerville. From offices in Huddersfield, England, London, New York, San Francisco and Sydney, ATTIK's powerful integration of creative finesse, strategic foundation and hybrid, youth-focused research practices truly set the company apart. Indeed, its patent creative approaches led to personalization becoming the theme which fueled Scion's phenomenal launch in 2003 – and continues driving the brand's success to new proportions.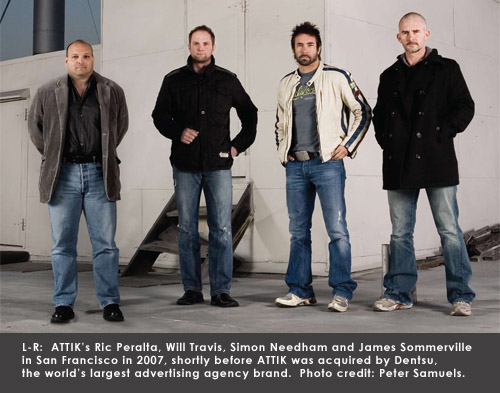 Today, ATTIK is credited by many experts as having reshaped the automotive marketing industry, many of its past Scion clients have earned top industry acclaim and continue leading the top automotive brands, and as of October, 2007, ATTIK is a very successful subsidiary of
Dentsu
, the world's largest advertising agency brand. In announcing the acquisition, Dentsu America's CEO Tim Andree proudly made note of ATTIK's "
impressive creative credentials, its leadership position within digital and alternative media, and its deep understanding of Generation Y.
" Extending far beyond the automotive industry, ATTIK's modern success has been shaped by many factors and individuals since the company humbly began in 1986. Driven by real-world needs and strong northern English work values, Needham and Sommerville famously applied their artistic talents and their passions for success, and with help from friends, relatives and even the Prince and Queen of England, their small design business grew. Far-reaching ambitions, combined with devout passions for innovation, led them to self-publish a book entitled
Noise
(1995) which boldly showcased their capabilities and effectively served as both new-business and recruitment tool. Subsequent Noise editions followed as years passed, launching to new heights by virtue of ATTIK's expansions into London, America, and Australia. Published in 2001 by HarperCollins Publishers,
NoiseFour
featured 500 pages of extraordinary images and ideas. With each Noise edition widely considered as being among the most important graphic design references of its era,
NoiseFour
also became part of the permanent collection of the Museum of Modern Art in San Francisco. And yet, for various reasons, the years that followed the
NoiseFour
release led to a significant scaling-back of operations for ATTIK. Nonetheless, through the perseverance of Needham, Sommerville, their eventual partners William Travis and Ric Peralta, and many stalwart advisors and staff-members, ATTIK went on to become the company that stunned the automotive industry in 2003 – and the very same one that became a crown gem for the world's largest ad agency brand in 2007.
With the recent publication of
NoiseFive
, ATTIK returns to the spirit of what led to their very first Noise publication in 1995:
the desire to continue navigating their unbridled passions for creativity and innovation, and then sharing the results with the world
. Three years in the making,
NoiseFive
offers hundreds of pages of exciting print design, appearing on a total of nine unique paper stocks using more than 40 print finishes – while also presenting a detailed, first-of-its-kind retrospective on the company and its principals, written by noted branding and marketing industry journalist Karl Greenberg. The price for ordering
NoiseFive
directly from ATTIK is £65 plus shipping. To pre-order a copy or a limited edition signed edition (while they last), please visit
http://noise.attik.com
.